HOW TO LIGHTEN DARK UNDERARMS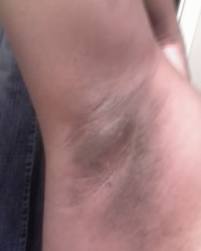 If you have dark underarms, there is nothing to worry about as you can easily get rid of the darkness. Dark underarms is not a disease or a medical condition. First of all you need to be aware of the reasons why underarms darken in comparison to regular skin.
Underarm and armpit skin can darken for many reasons. Excessive sweat is the most common reason, since our armpits are constantly perspiring and cooling our body whether we feel sweaty or not. The sweat never completely dries out in the folds of armpit skin, and it secretes uric acid, which will darken anything over time.
Other causes are age, hormonal changes, pregnancy, excessive shaving, poor ventilation of under arms, poor-quality deodorants, and genetics. For few people health problems like obesity and diabetics can be a cause. Excessive smoking is also a major reason
Dark underarms cause embarrassment and even make you avoid wearing tank tops, sleeveless dresses, or bathing suits. But you can lighten dark underarms in various ways. These natural remedies are safe, effective and affordable and that too without any side effects.
Dark underarms can be lightened with a few hygiene changes and some common ingredients from your kitchen. All it takes is a little time and patience to lighten dark underarms. Here are some tips and tricks that will help to lighten the underarms.
Potato
Potato is a natural bleaching agent. To lighten dark underarms grate potato, extract juice and apply on the area. Leave it for 10 mins and wash away with lukewarm water. Follow this process twice daily and at least for 2 weeks to see the difference in the skin tone. The advantage of using potato is that it doesn't cause skin irritation.
Cucumber
Cucumber also has got natural bleaching properties. You can directly apply cucumber slices to your underarms and turn the sides to extract maximum juice. Replace with fresh slices. Ayurveda suggests the following method to lighten dark underarms. Take the 2 tspns of cucumber juice, mix 2 tspns of fresh lime juice and ½ tspn of turmeric powder. Mix and apply the thick paste on the underarms and leave for 20 mins. Place a cloth on your underarms to avoid contact with clothes. Wash off after 15 to 20 mins. Follow this process on alternate days. Lemon is a good combination as it is a kind of natural cleanser and it also acts a powerful anti-bacterial and anti-septic. This is why lemon is used in the treatment of various skin related problem. Ayurveda recommends home remedies.
Sandalwood
Sandalwood is an useful ingredient to lighten dark underarms. Take 2 tspns of sandalwood powder or sandalwood paste in 2 tspns of rose water to make a thick paste. Sandalwood has got lightening properties , also help to get rid of bad body odor due to excessive sweating. Rose water has cooling effect on skin making skin softer. Apply the paste on your underarms and allow it to dry for fifteen minutes. Wash off with cold water. Repeat process daily and you will see an improvement in a few days.

Coconut oil
Coconut oil is a great option to lighten dark underarms. Coconut oil is an effective natural deodorant containing Vitamin E that helps in lightening dark underarms. You can follow this by massaging your underarms with coconut oil for 10 to 15 mins daily prior to bath. Wash the area thoroughly with soap to remove oily surface. Repeat process for few days and you can see a significant improvement in skin color.
Gram flour
Gram flour or Chick pea flour is a good whitening pack for the underarms. Take 2 tspn of gram flour, add 2 tspn of lemon juice, 2 tspn of yogurt. Mix well and apply the paste on the underarms , massage for 5  mins. Wash off after 30 mins with lukewarm water. Follow this process daily for 2 weeks and you can see the change I color of your underarms. Later you can shift it to twice a week option.
Orange peel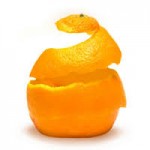 Orange peel is a good choice for getting rid of dark underarms. Dry orange peels and  when crispy dry powder and store in a tight container. Mix 1 tspn of orange peel powder, 1 tspn of rose water and 1 tspn of milk to make a thick paste. Apply the orange peel paste on the underarms and leave it for 20 mins. Wash away with cold water . This will remove dead cells and keep your underarms smelling fresh.
Vinegar
Vinegar is an useful ingredient to lighten dark underarms. You need to mix 2 tspn of vinegar with 2 tspns of rice flour. Mix well and apply it on the underarms after a hot shower. Leave it for 15 mins. Wash away with lukewarm water. Vinegar application will lighten the skin tone, will protect your skin by killing all the germs and bacteria accumulated in the folds of the underarm skin and which feeds on dead skin cells causing foul odor.
Clothing
Avoid wearing tight clothes that rub your underarm and lead to darkness. Avoid synthetic clothes for long duration. Select material that absorbs the sweat and you feel comfortable in.
Best practice to be followed for shaving underarms
Do not shave your arm pits daily. Do it twice a week , preferably after a reasonable length of hair has developed. Shaving the underarms everyday will lead to dark underarms as the skin is scraped frequently. Skin is made up of a thin layer of cells which die at the slightest injury, giving a dark appearance.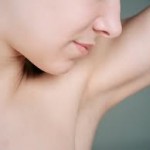 Maintain good hygiene practices. Washing your underarm with soap and water will relieve you of foul odor and bacteria.
Primarily clean your underarms with warm water. Apply shaving cream and shave it in one direction to get rid of the hair. Next shave in the other direction to achieve a smooth feeling also known as close shave. Apply coconut oil, moisturizer containing Vitamin E to replenish your skin.
I'm sure you will be able to sport your favorite dresses and not feel embarrassed to lift your arms.