IMPORTANCE OF SIX TASTES IN AYURVEDIC DIET
Ayurvedic diet doesn't mean eating only legumes, rice and vegetables. Know your dosha type ( Vata, Pitta and Kapha) and balance the food intake by making right choices and decisions.
Ayurveda recognizes six tastes and it's quite important to have all of these 6 tastes in your diet every day. The six tastes are:
Sweet – sugar, honey, rice, pasta (made from the dough of wheat rava/semolina), milk, etc.
Sour – lemons, hard cheese, yogurt(curd), vinegar, etc.
Salty – salt, any salty food
Pungent – chili peppers, red chilli , ginger, any hot spice
Bitter – leafy greens, turmeric, lettuce (salad leaves),bitter gourd etc.
Astringent – pomegranate, beans, lentils (dhals), etc.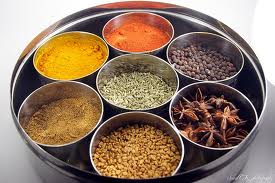 These six tastes are listed in the order they are digested in your body.
The pattern in Indian meals is that we start the course with starters, salads, main course and then dessert / sweet dish or fruit. Common observation is that in Indian meals we have a reverse pattern – salad is taken in the beginning and sweet dish at the end of the meal. Ayurveda Diet has a very holistic-medicine-point of view on diet.

Including all six tastes in your diet contributes to feeling satisfied at the end of a meal. Cravings are often caused by not having all of the six tastes in your daily diet. Many people often omit the bitter and astringent tastes (don't be one of them!). When you have something bitter or astringent at the end of a meal, it actually reduces your desire for sweets.
Including all six tastes is a great way to incorporate Ayurvedic diet into your lifestyle and at the same time improve your health (not to mention a great way to shed off some pounds-effortlessly).
"You are what you eat" is a saying that you have probably heard before. It holds true not only on the physical but also on the psychological level.

Ayurveda recommends that food should be taken fresh (without pesticides, additives and other chemicals), seasonal, and as often as possible local. Fresh doesn't, however, mean raw. The best are freshly cooked, whole meals.
You can make a good start when you know what is healthy food . Cook more with fresh produce and start playing with some basic Ayurvedic spices, such as turmeric, ginger, cumin and coriander. No matter what you cook, you can almost always add these spices to your dish. Not only are those excellent flavor and digestion enhancers, but they also have many medicinal properties.
Some right choices you can make while eating out: drink warm water instead of cold water, it enhances digestion. Similarly it is better to have a warm soup than going for ice cold salad during start uo of a meal course.
Eat only when you are hungry, but when you are not don't eat. Although this seems over simplistic, this practice is the key to conquering most cases of obesity.
Eat light meals , include ginger tea – two times a day and stay healthy!!