IS IT BETTER TO SOAK ALMONDS IN WATER BEFORE EATING?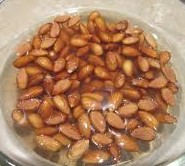 There is much confusion among people if it is better to eat almonds as purchased or having pre soaked almonds. This article will answer your queries. Almond is popularly known as the king of Nuts commonly known as Badam . Packed with vitamins, minerals, proteins and fiber, almonds are an easy, delicious way to get the nutrients we need, every day.There are many benefits of having almonds regularly.
Dry almonds contain an enzyme inhibitor in the skin which is basically meant to protect the seed till it gets moisture for germination. Once the almonds are soaked in water this enzyme inhibitor is released.
Ayurveda claims that almonds are energizing, and balancing for the mind. Eating pre soaked almonds makes them easier to digest and also makes more nutrients available for digestion. Soaking will make the nut soft and it becomes easy for children and aged to chew and consume. Unchewed nuts are hard on the digestive tract.
If you eat soaked almonds in the morning, they will set hydrochloric acid tolerance for the day and provide all-day protein digestion. Almonds are efficiently digested when consumed in this way since stomach acids are concentrated after the night fast. When soaked, almonds act as protein plus nitrogen .Therefore it is recommended to soak almonds overnight.
How to soak almonds in water:
In a bowl take the required number of almonds .
Rinse them in water and soak almonds in double the quantity of water .
Cover the bowl with a fine cloth. Do not use a tight locking lid.
Soak the almonds at room temperature for 8 to 10 hrs.
Drain the water and rinse the nuts thoroughly prior to eating.
Myths about almond:
Pre soaked Almonds should be peeled before eating
This is a wrong impression that you need to peel almonds before consuming. The skin of almonds contains anti-oxidants. The fact is that the skin of the almonds contributes to a significant part of the fiber content, a nutrient important for regular bowel movement.
Almonds cause body heat and can be consumed only in winters
Almonds can be consumed throughout the year. The common belief that almonds cause body heat has not been verified scientifically. But in peak summers, you can also consume almonds in the form of Coolers or add into sweets and dishes. Dice it and add into your dishes.
Benefits of pre soaked almonds:
Presoaked almonds boosts Memory
Almonds are known as one of the best brain tonics. It is rich in essential fats and serves to improve memory and intelligence. Eating 4-6 soaked almonds every morning helps enhance your memory. This makes them an essential part of kids' daily diet. Develop the habit from early days for better results.
Presoaked almonds highly beneficial during Pregnancy
Almonds are highly nutritive and hence a good source of energy for pregnant women. Adding a pinch of saffron to the almond paste will better the taste and further add value. Pregnant women must consume this preparation along with a healthy diet everyday as this provides good nourishment for both, mother and baby.
Soaked almonds in milk increases sexual desire
Soaking almonds in milk and eating them increases the sexual desire and enhances general sexual performance in cases of frigidity. Have 8 to 10 almonds.
Presoaked almonds has numerous Beauty benefits
Eating soaked almonds regularly improves the overall texture of your skin. Almonds are an effective moisturizer for the skin. You can use the paste of almonds soaked in warm water overnight and peeled. Grind to a coarse paste, mix with fresh cream and apply it on your face. Almond face scrub helps exfoliate the dead skin cells and get radiant skin. The remaining paste can be used to scrub rough knees and elbows.