SUGAR CANE JUICE EFFECTIVELY FIGHTS PROSTRATE CANCER AND BREAST CANCER CELLS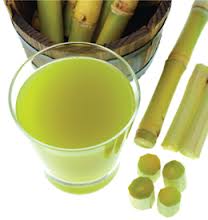 Sugar cane juice is popularly known as 'ganne ka ras '. Sugar cane juice is widely consumed juice due to its availability in cities and small towns too. Sugar cane juice is sold by vendors beside streets. In hot summers sugar cane juice is an ideal recharger energy drink. The best time to consume sugar cane juice is in the afternoon when Pitta dosha is prominent. It is better to avoid during night.
In Ayurveda , sugar cane juice and its by product – Jaggery is used in many formulations including lehyams, arishtams.
Sugar cane has innumerable medicinal and curative properties and therefore is in usage since ages.
Sugar cane juice contains natural sugar, minerals and organic acids. It is rich in phosphorus, calcium, iron, magnesium and potassium.
Sugar cane juice strengthens the stomach, kidneys, eyes, heart , brain and sex organs.
Sugar cane juice is an alkalizing substance, and therefore is beneficial at fighting cancer. Studies have shown that it has proven and effective at fighting prostate and breast cancer cells.
Sugar cane juice is helpful in minimizing urinary infections, especially when you experience burning sensation while passing urine. Best when taken by mixing lime juice(1tsp), ginger juice (1 tsp) , coconut water (1/3 glass) and sugarcane juice (2/3 glass). The juice helps in passing free flow of urine and keeps kidney healthy.
Sugar cane juice is nourishing in summer when you feel tired and drained after working outdoors. It cools the body and energizes the body with carbohydrates and protein.
Sugar cane juice is a fattening food. Therefore recommended for people who are lean and want to shape up a little.
Sugar cane juice is diuretic. Relieves jaundice when consumed along with lime juice for atleast 10 to 12 days.
Main caution to be followed by consuming sugar cane juice prepared externally is avoid ice cubes which is added to cool the juice. Preferably drink it plain and direct. Check for the environmental conditions as sugar cane sticks attract flies that can be a major cause for various illnesses.
Sugar cane juice minimizes morning sickness especially during pregnancy. You can take it along with grounded fresh ginger.
Sugar cane juice is an energy drink, can be taken by diabetic patients in lesser quantities. It does not contain sugar.
Biting the sugar cane and extracting juice from the stem makes the teeth stronger. It is a good exercise for the tooth.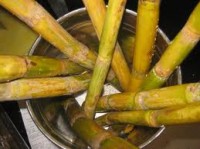 Sugar cane is included in many festive occasions in India especially the festive occasions associated with harvest time. Fresh jaggery is prepared for the needs of festivals. There is no celebrations in Indian homes which does not have payasam or kheer.
Breast cancer is common among women and prostrate cancer affecting the male reproductive system is increasing in high numbers. Since the rates of cancer is increasing significantly, you can include sugar cane juice in your diet regimen often and remain healthy.
Ideal to buy stems and chop it. Naturally bite and extract juice- ganne ka ras. Alternative solution is avoid addition of ice to maintain hygiene.