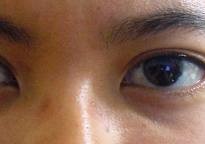 Regular usage of eye glasses leaves an impression on the nose where it comes in contact with the skin. Initially it will be light and after a few weeks the area becomes darker and when you do not wear glasses the area looks shabby. The skin becomes dark due to hyper pigmentation of the skin. Few people opt for contact lenses, the dark marks will go away with time. The remaining have continued usage of eye glasses just to avoid the hassle of using contact lenses and the precautionary measures associated with it. The best way out will be to use eye glasses that are light weight and having extra soft nose pads.
It is commonly noticed that people who wear glasses since years will have a deeper impression. You can remove your glasses when you can manage as it brings down the contact on skin. If you notice that the impression is increasing as days go by then you may have put on weight, become chubby or the new frame is creating this impression on the nose. Either way consult your eye specialist for further inputs.
Now coming to the hyper pigmentation problem of skin, this can be minimized by following the simple methods.
Clean your face twice or thrice daily to remove all the impurities and the dead skin cells. Plenty of natural cleanser packs are available in the market which is safe for the skin. Go to the kitchen and pick curd or milk and apply it gently on the face for better results.
After a proper face wash , it is essential to apply a moisturizer to avoid skin getting dry and the pigmentation problem increase. There are lots of moisturizing creams from popular brands . You can opt for home made remedies too.

Natural remedies for black marks on nose
Here are some safe ways you can use daily to lighten the pigmentation on your nose naturally.
Rub fresh and thin slice of potato or cucumber or tomato on the pigmented area daily. You can also combine the juice of these three ingredients and use it on the problem area to cleanse and bleach the area. Dip cotton ball in the juice and apply on the black marks.
Use of Vitamin –E rich ingredients like Almond oil or simply a liquid from Vitamin E capsule can help you a lot. Just massage the area daily and get rid of dark marks.
A mixture prepared by combining Oats, honey and milk is also beneficial. Apply it on the affected area to lighten and moisturize it.
Lemon juice is a natural skin lightener. Apply diluted fresh lemon juice on your nose. You can also use apple cider vinegar for this purpose.
Aloe vera juice is another time tested remedy for these black marks. Aloe vera is a natural coolant and heals skin problems quickly.
Apply a paste of dried and powdered orange peel and milk on the area. Keep it for some time and then wash it off. This remedy will gradually help you to clear up pigmented marks.
Apart from all remedies you can keep your skin moist and look young by drinking plenty of water. The toxins will get flushed out and your skin will become hydrated. Eat a balanced diet with fruits vegetables. Moreover try to keep the glasses clean and germ free. Clean the glass frame and glasses twice daily to avoid straining of eyes. Discuss your problem with the dermatologist to get a proper treatment.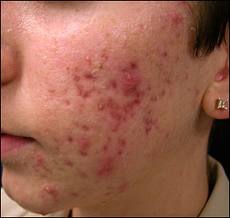 Acne is a common skin disease that affects the areas containing the largest oil glands. It occurs when the oil-secreting glands in the skin are clogged and become inflamed or infected.
According to Ayurveda, Acne is believed to be from aggravation of dosha's and it happens due to the excessive intake of alcohol, tea, coffee, spicy, oily and fried foods. Stress, tension, pollution and chemicals are also among the major causes for skin problems like acne, boils, pimples and rashes. The disease is seen mostly in teenagers and it is estimated that approximately 90% teenagers get acne.
Home Remedies for Acne
A paste made from one teaspoon each of sandalwood powder and turmeric mixed with milk, is very good.
A paste of nutmeg and water is also beneficial.
Half a cup of Aloe Vera pulp can be taken internally (Do not take internally if pregnant) or applied externally to the skin. Dosage: Twice a day.
Before going to bed, wash the face thoroughly and then apply a paste of 1 tsp. coriander juice mixed with a pinch of turmeric powder.
Crushed basil leaves are effective measure. Apply on affected part and leave it for 30 mins. Wash and dry with soft towel.
Apply paste made by mixing together a half teaspoon of ground cinnamon with one tablespoon of honey.. Apply the paste to the areas that need it before you go to bed and then rinse off the dried paste in the mornings. Honey has antibacterial properties and may also speed up healing.
A paste of fresh fenugreek leaves, applied and washed off with warm water before going to bed prevents acnes.
Application of cucumber juice mixed with juices of carrot or lettuce is an excellent home remedy for acnes
Eating food rich in beta carotene, such as carrots, pumpkin and other yellow-orange fruits and vegetables.
Drink around 2 litres or 12 glasses of water. This will will help body's self cleansing, self-purifying systems to be in perfect working condition and protect skin from toxicity.
Almond oil is good acne home remedy for dryness & inflammation of the skin.
Keep away oily, fried food items and sweets.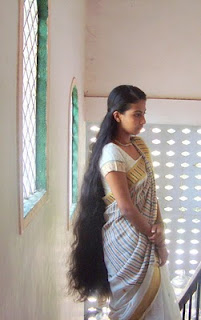 Since hair is protein (keratin), hence a diet that is too low in protein will lead to thinning of hair or retardation in the growth cycle. If you eat a protein-rich diet, it will often result in improved hair growth.
Some nutrition experts propose the consumption of calves liver, fish oil or protein, eggs, yeast, wheat and a daily dose of two tablespoons of granulated lecithin to increase hair length, hair growth, strength, and health of hairs.
Other high-quality food sources for protein include beans and yogurt. Soya bean protein has also been found to be helpful in increasing hair growth. In addition to making changes in the way of life. Take the following supplements every day to increase hair growth:
List of Vitamins that are useful to fast growth of hair.
Vitamin B-complex one of the major B-vitamins (like B-12, B-6).
Vitamin B-6 and Folic Acid.
Vitamin C with bioflavonoid in citric fruits.
Vitamin E found in fish and other sea foods.
Apart from vitamins – iron, calcium, Magnesium, sulphur, zinc, silica etc.
Mostly these irons and vitamins are found in fruits, dry fruits and green vegetables and oil like olive oil, coconut oil, butter etc. However, try to avoid excessive sugar in routine diet which harms your skin and health. Stress and pressure can play important role in hair loss. Improper sleep and bad food habits are also the cause of it.
Here are some natural tips of Hair care as given below.
Massage your scalp using coconut oil, herbal natural oil, or almond oil, for at least 20 to 30 minutes on a proper manner. Massaging conditions the hair and prevents drying of hair. A good head massage help to increase blood circulation to scalp skin and aid hair growth. Head massage also reduces stress, tension headaches and induces good sleep.
If you are using coconut oil then if possible, boil it for 2 minutes, then add vitamin E capsule in it, and then massage your scalp slowly and gently.
Our body produces natural oil which is secreted through oil glands of skin and scalp. This oil keeps our hair strands conditioned. Hence do not use harsh shampoos or soaps which strip off natural oil of scalp. Always use mild shampoo to wash hair..Do not use low quality shampoos, conditioners or hair gel because they will damage your hair or may make them brittle and rough.
Coconut is best nutrition for hair; try to include coconut in your regular diet like in dals, sabjis, and vegetables etc. Coconut milk is also good for hair growth.
Make a paste of methi, lemon, and curd then massage that paste on the scalp. After 15 to 20 minutes shampoo your hair gently. It will definitely give a shine to your hair and is helpful for the hair growth. Do this once in 15 days regularly.
Wash your hair with tea decoction. That increases the shine and length of hair. Wash your hair once in three days only. Repeated hair wash leads to dry hair and split ends.
Never, ever scratch the clumps with your fingernails. It will cause wound on your scalp. It will also cause infection, as there are harmful bacteria often present underneath the nails. If you have dandruff problem then wash your hair with lemon or curd.
Drink plenty of water (2 liters or 12 glasses per day). Water flushes out toxins and increases moistness of skin and hair. This prevents splitting of hair.
Brush your hair from root to tips before taking head bath.
Wear a swimming cap to prevent hair damage due to chlorine.
Avoid tying hair tightly with hair bands. This leads to baldness.
Eat a healthy Balanced diet. Include plenty of green vegetables, fresh fruits, minor millets, milk and milk products. Vegetables and fruits provide antioxidants and minerals which are necessary to keep the body healthy. Amla (amalaki or Indian gooseberry or emblica officinalis), is considered as a fruit which help in hair growth. Include banana in your diet as banana contains plenty of calcium which is a vital nutrient required for hair growth. Healthy diet prevents hair loss and improves quality and quantity of hair.
Exercise regularly. This helps to increase blood circulation and keep our whole body healthy and rejuvenated. A brisk walk for 30 minutes is advisable for all ages.
Follow these tips for maintaining hair. This hair care system helps the hair tremendously and you will have many admirers your way. There are many hair care systems including the Indian Ayurvedic systems, which has a number of prescribed methods that have proven beneficial since centuries as Ayurveda is a very old medicinal system from India.