Typhoid fever is also known as enteric fever. Typhoid is a bacterial infection due to Salmonella typhi. The bacteria are deposited in the water or food by a human carrier and are then spread to other people in the area Typhoid is mostly caused when one consumes contaminated water or food during the monsoon season. Once the bacteria enters the body through contaminated food, drinks or water they multiply and spread from the intestines into the bloodstream.. The bacteria travels into your intestine and then into your blood. In the blood they travel to your lymph nodes, gallbladder, liver, spleen and other parts of the body.
SYMPTOMS OF TYPHOID FEVER:
Sustained fever as high as 103 to 104 degree Fahrenheit.
Stomach pain
Headache
Chills
Nose bleed
Constipation or diarrhea
Loss of appetite
Rose colored spots on the chest
Mood swings
Slow, sluggish, weak feeling
HOME REMEDIES FOR TYPHOID: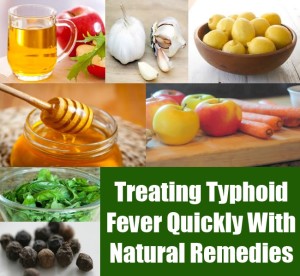 Typhoid can be life threatening if not cured timely. The course of antibiotics is very important to be completed by the patient. Apart from this some natural remedies for typhoid can also be helpful and necessary.
INCREASE FLUID INTAKE :Due to diarrhea and high fever, you may become dehydrated. Increasing your fluid intake may be an easy way to prevent this. In addition, it will encourage elimination of waste material and toxins as well as keep your body hydrated. What you need to do:

GARLIC : Peel raw garlic and suck. Eat something beforehand even a raw carrot or apple. If you don't lacerate the garlic clove it won't sting your mouth. Just suck it like a lolly for 20 minutes or so. Garlic is a natural antibiotic and it will suck up mucous and kill bacteria.
CLOVES: Cloves have antibacterial properties which can kill the bacteria that cause typhoid. Cloves also help ease diarrhea and vomiting, the two normal side effects of typhoid. Boil 4-5 cloves to clean water. Boil it until it reduces half, allow it to cool and then filter it. Continue the same for a week and you can see considerable change.
HONEY: Just add 1 tbsp of honey in a glass of lukewarm water. Drink it as many times a day, to energize your body. Honey also soothes the digestive system apart from supplying energy to the body.
LEMONS: Being a natural disinfectant, lemon helps alkalize your gastrointestinal tract. Squeeze an entire lemon and drink the juice either with hot or cold water and honey to taste. Add slices of lemon to your water for 1 week after typhoid diagnosis. Also do drink the same for a week, even after recovery.
APPLES AND CARROTS: Snack on apples and carrots for good digestion bug cleaning but you may want to dip them in a bowl of water treated with a dash of apple cider vinegar first so ensure all bacteria is gone.
BASIL LEAVES AND BLACK PEPPER: Grind 4 basil leaves, 7 black pepper tablets and 7 strands of saffron into a paste. Prepare small tablets from the paste, and take these 2-3 times during the day.
OTHER NATURAL TIPS TO PREVENT TYPHOID FEVER:
Maintain sanitation good hygiene in order to prevent typhoid.
Drink plenty of fluids as this helps dehydration which occurs due to high fever and diarrhea.
While traveling drink only boiled or bottled water and eat well- cooked food.
Careful food preparation and washing of hands are crucial to prevent typhoid.
Keep your personal items such as vessels and towels separate.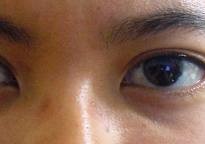 Regular usage of eye glasses leaves an impression on the nose where it comes in contact with the skin. Initially it will be light and after a few weeks the area becomes darker and when you do not wear glasses the area looks shabby. The skin becomes dark due to hyper pigmentation of the skin. Few people opt for contact lenses, the dark marks will go away with time. The remaining have continued usage of eye glasses just to avoid the hassle of using contact lenses and the precautionary measures associated with it. The best way out will be to use eye glasses that are light weight and having extra soft nose pads.
It is commonly noticed that people who wear glasses since years will have a deeper impression. You can remove your glasses when you can manage as it brings down the contact on skin. If you notice that the impression is increasing as days go by then you may have put on weight, become chubby or the new frame is creating this impression on the nose. Either way consult your eye specialist for further inputs.
Now coming to the hyper pigmentation problem of skin, this can be minimized by following the simple methods.
Clean your face twice or thrice daily to remove all the impurities and the dead skin cells. Plenty of natural cleanser packs are available in the market which is safe for the skin. Go to the kitchen and pick curd or milk and apply it gently on the face for better results.
After a proper face wash , it is essential to apply a moisturizer to avoid skin getting dry and the pigmentation problem increase. There are lots of moisturizing creams from popular brands . You can opt for home made remedies too.

Natural remedies for black marks on nose
Here are some safe ways you can use daily to lighten the pigmentation on your nose naturally.
Rub fresh and thin slice of potato or cucumber or tomato on the pigmented area daily. You can also combine the juice of these three ingredients and use it on the problem area to cleanse and bleach the area. Dip cotton ball in the juice and apply on the black marks.
Use of Vitamin –E rich ingredients like Almond oil or simply a liquid from Vitamin E capsule can help you a lot. Just massage the area daily and get rid of dark marks.
A mixture prepared by combining Oats, honey and milk is also beneficial. Apply it on the affected area to lighten and moisturize it.
Lemon juice is a natural skin lightener. Apply diluted fresh lemon juice on your nose. You can also use apple cider vinegar for this purpose.
Aloe vera juice is another time tested remedy for these black marks. Aloe vera is a natural coolant and heals skin problems quickly.
Apply a paste of dried and powdered orange peel and milk on the area. Keep it for some time and then wash it off. This remedy will gradually help you to clear up pigmented marks.
Apart from all remedies you can keep your skin moist and look young by drinking plenty of water. The toxins will get flushed out and your skin will become hydrated. Eat a balanced diet with fruits vegetables. Moreover try to keep the glasses clean and germ free. Clean the glass frame and glasses twice daily to avoid straining of eyes. Discuss your problem with the dermatologist to get a proper treatment.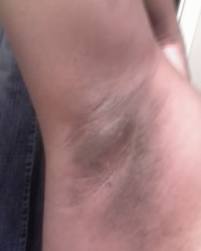 If you have dark underarms, there is nothing to worry about as you can easily get rid of the darkness. Dark underarms is not a disease or a medical condition. First of all you need to be aware of the reasons why underarms darken in comparison to regular skin.
Underarm and armpit skin can darken for many reasons. Excessive sweat is the most common reason, since our armpits are constantly perspiring and cooling our body whether we feel sweaty or not. The sweat never completely dries out in the folds of armpit skin, and it secretes uric acid, which will darken anything over time.
Other causes are age, hormonal changes, pregnancy, excessive shaving, poor ventilation of under arms, poor-quality deodorants, and genetics. For few people health problems like obesity and diabetics can be a cause. Excessive smoking is also a major reason
Dark underarms cause embarrassment and even make you avoid wearing tank tops, sleeveless dresses, or bathing suits. But you can lighten dark underarms in various ways. These natural remedies are safe, effective and affordable and that too without any side effects.
Dark underarms can be lightened with a few hygiene changes and some common ingredients from your kitchen. All it takes is a little time and patience to lighten dark underarms. Here are some tips and tricks that will help to lighten the underarms.
Potato
Potato is a natural bleaching agent. To lighten dark underarms grate potato, extract juice and apply on the area. Leave it for 10 mins and wash away with lukewarm water. Follow this process twice daily and at least for 2 weeks to see the difference in the skin tone. The advantage of using potato is that it doesn't cause skin irritation.
Cucumber
Cucumber also has got natural bleaching properties. You can directly apply cucumber slices to your underarms and turn the sides to extract maximum juice. Replace with fresh slices. Ayurveda suggests the following method to lighten dark underarms. Take the 2 tspns of cucumber juice, mix 2 tspns of fresh lime juice and ½ tspn of turmeric powder. Mix and apply the thick paste on the underarms and leave for 20 mins. Place a cloth on your underarms to avoid contact with clothes. Wash off after 15 to 20 mins. Follow this process on alternate days. Lemon is a good combination as it is a kind of natural cleanser and it also acts a powerful anti-bacterial and anti-septic. This is why lemon is used in the treatment of various skin related problem. Ayurveda recommends home remedies.
Sandalwood
Sandalwood is an useful ingredient to lighten dark underarms. Take 2 tspns of sandalwood powder or sandalwood paste in 2 tspns of rose water to make a thick paste. Sandalwood has got lightening properties , also help to get rid of bad body odor due to excessive sweating. Rose water has cooling effect on skin making skin softer. Apply the paste on your underarms and allow it to dry for fifteen minutes. Wash off with cold water. Repeat process daily and you will see an improvement in a few days.

Coconut oil
Coconut oil is a great option to lighten dark underarms. Coconut oil is an effective natural deodorant containing Vitamin E that helps in lightening dark underarms. You can follow this by massaging your underarms with coconut oil for 10 to 15 mins daily prior to bath. Wash the area thoroughly with soap to remove oily surface. Repeat process for few days and you can see a significant improvement in skin color.
Gram flour
Gram flour or Chick pea flour is a good whitening pack for the underarms. Take 2 tspn of gram flour, add 2 tspn of lemon juice, 2 tspn of yogurt. Mix well and apply the paste on the underarms , massage for 5  mins. Wash off after 30 mins with lukewarm water. Follow this process daily for 2 weeks and you can see the change I color of your underarms. Later you can shift it to twice a week option.
Orange peel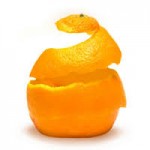 Orange peel is a good choice for getting rid of dark underarms. Dry orange peels and  when crispy dry powder and store in a tight container. Mix 1 tspn of orange peel powder, 1 tspn of rose water and 1 tspn of milk to make a thick paste. Apply the orange peel paste on the underarms and leave it for 20 mins. Wash away with cold water . This will remove dead cells and keep your underarms smelling fresh.
Vinegar
Vinegar is an useful ingredient to lighten dark underarms. You need to mix 2 tspn of vinegar with 2 tspns of rice flour. Mix well and apply it on the underarms after a hot shower. Leave it for 15 mins. Wash away with lukewarm water. Vinegar application will lighten the skin tone, will protect your skin by killing all the germs and bacteria accumulated in the folds of the underarm skin and which feeds on dead skin cells causing foul odor.
Clothing
Avoid wearing tight clothes that rub your underarm and lead to darkness. Avoid synthetic clothes for long duration. Select material that absorbs the sweat and you feel comfortable in.
Best practice to be followed for shaving underarms
Do not shave your arm pits daily. Do it twice a week , preferably after a reasonable length of hair has developed. Shaving the underarms everyday will lead to dark underarms as the skin is scraped frequently. Skin is made up of a thin layer of cells which die at the slightest injury, giving a dark appearance.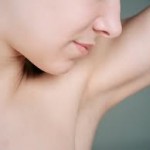 Maintain good hygiene practices. Washing your underarm with soap and water will relieve you of foul odor and bacteria.
Primarily clean your underarms with warm water. Apply shaving cream and shave it in one direction to get rid of the hair. Next shave in the other direction to achieve a smooth feeling also known as close shave. Apply coconut oil, moisturizer containing Vitamin E to replenish your skin.
I'm sure you will be able to sport your favorite dresses and not feel embarrassed to lift your arms.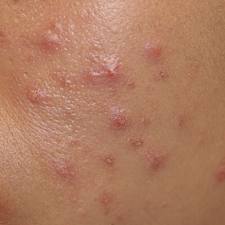 Pimples are considered to be a common problem amongst youngsters, teenagers and even in adults. Although several cosmetic chemical based formulations claim to be effective in treating pimples and acne, resorting to ayurvedic treatment for pimples is the safest. Considering that your skin is already suffering from skin disorders, you might not want to aggravate the problem with the usage of unsafe chemicals.
Ayurveda treats the entire body and any of its problems using natural remedies. Its holistic approach may make its skin remedies easy and natural alternatives to over-the-counter creams and ointments. Let's look at some of the ways to use these remedies to get rid of pimples.
These simple home remedies for pimples and acne can work wonders on the skin providing you with a fresh and beautiful skin.
Rub an ice cube over the affected area for some time. Reduces pimples and also gives a glowy skin. Smoothens skin. Cheapest method and effortless.
Lime juice improves the texture of skin and lightens the marks.
Note: Lemon juice should not be applied with hands. You should soak cotton balls in lemon juice and apply on the affected area.
Cucumber juice lessens the pimple marks. They also calms the itching feeling on the skin. Leave the juice on the affected areas for 30 mins such that it will soak as much juice as possible.
Raw tomato pulp can be used directly rubbed on the pimples . It lessens the marks too. Leave this for an hour. After that wash with warm water and wipe with a soft towel.
Apply a paste made from one teaspoon of cumin seeds. Remove after one hour
Crushed basil leaves are effective measure. Apply on affected part and leave it for 30 mins. Wash and dry with soft towel.
Application of cucumber juice mixed with juices of carrot or lettuce is an excellent home remedy for pimples.
Apply paste made by mixing together a half teaspoon of ground cinnamon with one tablespoon of honey.. Apply the paste to the areas that need it before you go to bed and then rinse off the dried paste in the mornings. Honey has antibacterial properties and may also speed up healing.
Mix together one teaspoon of turmeric with mint juice. You should only use enough mint juice to form a paste with a creamy consistency. Apply the paste on the affected areas and leave it on for 30 minutes. Gently clean off the paste using cool water. Turmeric has been used as part of Indian home remedies for acne for some time, and its antiseptic properties may also help to dry out pimples.
All with little patience and effort you can acquire a skin you have hoped for.You deserve the best and to get the best of it you need to strive for it. By donating a little time for yourself you can become beautiful and confident to face the world. Numerous strategies and ayurvedic tips can be followed to get results without investing too much money.
Missed Abortion is a painful process and if you were longing to have a child, the aftermath process should be dealt with lots of care. The patient is physically as well as mentally shattered.
The common terms referred are miscarriage, missed abortion where the process is natural and not induced. Abortion is termed when removal of the foetus is by unnatural method or medicinally intervened.
Following are the symptoms observed and the precaution to be taken is also mentioned.
CRAMPING: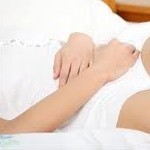 Cramping is not always a sign of a problem. At times cramping indicates that there are blood clots in your uterus, you have a strained muscle near your uterus, or your uterus is contracting to its normal size.
Remedial methods to relieve cramping are:
Massage your abdomen. Push down starting from below your belly button towards your pubic hair. You can lie down or sit on the toilet. Massaging will help you to pass blood clots that might be causing your cramping.
You can lie down on the side that hurts and pull the bottom knee up towards your chest, or put your leg on a chair and lean into the direction of the pain. If you get relief from this, the pain is most likely due to muscle strain and can be treated by resting.
FEVER:
If you feel hot or have cramping, take your temperature. If your temperature is over  100.4 degrees, you need to consult your doctor. Fever can be a sign of infection. Most infections can be treated with medication and do not require hospitalization. Recommended to go for early treatment . Intense cramping that is not alleviated by medication recommended by Doctor or tenderness of the abdomen can also be signs of infection.
BLEEDING:
If the amount of bleeding increases to soaking more than one maxi pad in one hour or if you begin to pass blood clots larger than a golf ball, inform the doctor and take medical advise. Do not waste time as the patient will have heavy blood loss, become anemic and have further health problems.
BREAST TENDERNESS:
Following your abortion, your breasts may remain tender for as long as two weeks. It is also possible for milk to come into your breasts. This is more likely to occur if you were more than 12 weeks in the pregnancy, measuring from your last menstrual period.
Remedial methods to relieve breast tenderness are:
Place cabbage leaves on your breasts and cover with a supportive bra. Cabbage leaves should be changed every 2 hours until tenderness is relieved.
Wear a tight fitting bra (even while you sleep).
Do not stimulate your breasts.
Do not squeeze or express the milky fluid.
Take medication as per Doctors advise to minimize pain and discomfort.
Ice compresses on your breasts for ten minutes every 2 hours may also provide relief.
Precautionary measures to protect your uterus and tubes from infection are:
You should not have sexual intercourse for 2 weeks. However, when you do resume having intercourse, have your partner wear a condom and/or be certain that you are using some type of birth control. You may be more fertile after an abortion.
Use sanitary napkins only, Do not use tampons for 2 weeks.
You may take a shower and wash your hair, but no tub baths for 2 weeks.
No swimming for 2 weeks.
To make sure you recover completely:
You may go to work or school on the day following the procedure. However, REMEMBER no strenuous exercise or heavy lifting over 20 kgs because this can cause you to bleed more.
Be sure to take all of the medications given to you according to the directions on the label.
We do not advise douching in general, but especially refrain from douching until after your follow-up exam.
All of your pregnancy signs and symptoms (except breast tenderness) should decrease within 48-72 hours.
Your next period should start four to eight weeks after your abortion. In case you do not get your periods after 8 weeks, consult your Doctor .
It is possible to get pregnant right after your abortion, so if pregnancy is not desired, a method of birth control is recommended.
General Tips to avoid a Miscarriage:
In the initial stages of pregnancy there will be lots of hormonal changes , the dwarf characters  in body constitution will become dominant and therefore you may come across few heredity problems like wheezing, allergies , skin rash like pimples all over face, vomiting, morning sickness , diabetes,  thyroid etc. The mentioned factors will vary from person to person.
No antibiotics must be taken during  pregnancy.  Antibiotics increase the heat of the body.
Opt for natural remedies only or based on advise of the Gynecologists – Doctor you are consulting.
In Ayurveda – arishtam and churna powders are prescribed. You need to take the advise of the Ayurveda doctor as most recommend pathyam meaning diet restrictions. This will complement the medicine.
Natural remedies to avoid a miscarriage:
Take some amount  of asafetida (Hing) and dissolve in water. This must be consumed once daily during the months of pregnancy. In case you have had a miscarriage earlier  then asafetida water must be given in that month. This is considered very effective after an abortion.
Have a spoonful of fresh juice of vitamin C mixed with honey every morning.
In order to lower the heat in the groin area, a towel must be dipped in cold water and compressed in that area. This must be done once a day.