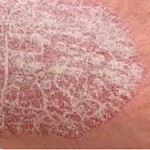 Ayurveda believes that impurities in the blood associated with emotional factors are the cause of the disease. According to Ayurveda Psoriasis can be considered as the vitiation of Vata and Kapha.
Ayurvedic treatment for Psoriasis
Ayurveda suggests Panchakarma for the treatment of psoriasis. This is because detoxification of the body is very essential for the treatment of psoriasis. Both systemic and topical treatments are used in the treatment.
Ayurvedic Diet
Psoriasis patient is also given a strict diet regime called pathyam or parhes (dietary restrictions)
Drinking fresh bitter gourd juice mixed with one teaspoon of lime juice on an empty stomach is an effective psoriasis treatment
Non vegetarian diet is strongly prohibited. Sea food and red meat are not recommended.
Avoid consuming opposite foods.
Take care not to consume foods which cause indigestion.
Do not eat too much salty, sour or acidic foods. Say no to radishes, urad dal, sesame, curds, fish and other sour foods.
Avoid consumption of Alcohol and Quit Smoking.
Avoid taking spicy food and consume only easily digestible food.
Include more fruits, vegetable, fruit juices in your diet. Bitter gourd, curd, boiled vegetables, pumpkin etc… are good psoriasis diet.
Avoid animal fats, eggs, processed canned foods from your diet.
Ayurvedic Tips for Psoriasis
Do not control natural urges like vomiting, urination, bowel emptying, etc.
Exposing to mild sunlight daily for 20 to 30 minutes will improve the texture of the affected area of the skin.
Avoid consumption of Alcohol and Smoking. It aggravates psoriasis.
Avoid sleeping in afternoons.
Avoid using soap while taking bath instead use gram flour ( besan) and use a herbal scrubber.
After washing, pat the skin dry, don't irritate it by rubbing vigorously.
Apply moisturizing creams liberally on affected areas after bathing.
Apply moisturizing gel or cream at regular intervals to maintain the moisture level of the skin.
Smear on herbal balm which is infused with vata and kapha balancing herbs.
Avoid all factors which trigger psoriasis. Reduce stress levels through meditation and yoga.
Avoid pricking, peeling and scratching skin.
Opt for cotton clothes over synthetic ones.
Use separate, clean clothes and towel for your use.
Do not take a cold water bath immediately after a heavy work out, travelling, a long walk, etc.
Application of avocado oil gently on the effected part is found to be an effective treatment.
Cod liver oil, lecithin, linseed oil, vitamin E, and zinc fasten the healing Process.
Taking bath in sea water is found to be very effective in psoriasis treatment.
Application of coconut oil, olive oil on the affected areas are extremely relieving. It moisturizes skin.
Applying aloe vera cream thinly to irritated skin and rubbing lightly is effective. Take gel directly from fresh cut stem and apply.
Place a cup of chopped cabbage in a bowl containing hot boiled water. When the water has cooled in the external container,  take the cabbage and place it on the infected areas. Press with a soft towel. Minimizes itching and soothes affected areas.
Mental health is absolutely necessary for an effective treatment of psoriasis. Try deep breathing and relaxation exercise to reduce stress.
Exercise Regularly. Be positive. Activate your energy levels. Keep yourself engrossed by reading to avoid thinking and increasing worries.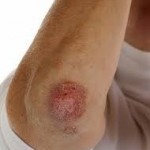 Psoriasis  is a non infectious, inflammatory disease of the skin . Psoriasis is associated with dryness, itching, silvery scales on the skin and flakes on the scalp. Psoriasis can begin at an age of 20 or between 5 and 60 years too. It affects both the genders and the exact reason for Psoriasis is not known.
There is no treatment for psoriasis that can guarantee 100% result. Psoriasis is an auto immune disorder of the skin resulting in hyper proliferation of the skin especially at the elbows, knees, scalp. A natural psoriasis treatment that may help one person may have no effect on another person. Psoriasis treatment requires strict dietary restrictions and life style practices.
Ayurveda believes that impurities in the blood associated with emotional factors are the cause of the disease. Psoriasis known as Sidhma Kushtam  is believed to occur due to vitiation of vata and kapha according to the ayurvedic concept. Irregular food habits, consumption of food items that cannot be eaten together for eg: diary products with fish, excessive intake of yogurt, black gram, seafood, jaggery ,sour and salted items etc can activate skin ailment. Alcohol and tobacco consumption will act as a catalyst here. Ayurveda emphasizes on the effect of stress which worsens the person affected by psoriasis.
Panchakarma treatment for psoriasis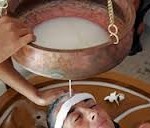 Panchakarma, the basic body purification method is used in the treatment of psoriasis. Ayurvedic treatment for psoriasis goes through several stages .
Lepanam (application of ointments),
Abhayangam (oil massage),
snehapanam (taking medicated ghee),
pizhichil (full body massage),
avisnanam (medicated steam bath),
sirovasti (keeping oil on head) and
bastis (medicated enema).
Both systemic and topical treatments are used and can include drinking medicated ghee, purging and vomiting to detoxify.
Detoxifying, by inducing vomiting (Vamana) and purgation (Virechana).
Using medicated buttermilk dripping overhead (Dahara)
Followed by pasting the entire body topically with a paste of medicines and mud,
Finally medicated enemas (Basthi's) are given for a week.
Internal medications in the form of herbal concoctions and medicated ghee has to be consumed for atleast three months.
Herbs used in Ayurvedic treatment for psoriasis
Turmeric has anti-inflammatory and anti-bacterial properties and will help relive pain, reduce inflammation. Due to the antibacterial and anti-inflammatory properties of turmeric, it relieves the pain, swelling and inflammation associated with psoriasis, arthritis etc.
Garlic (Allium sativum) – helps purify the blood and get rid of toxins
Neem – purifies and detoxifies, helps the immune system and has antis, anti-bacterial and anti-fungal properties. It enhances immune system and neem oil is an antiseptic in itself. Will help with the redness and itching of psoriasis.
Guggul a resin from a tree that grows in India it is anti-inflammatory and helps remove excess fats and fluids from the body. Kaishore guggul is useful remedy for psoriasis.
Black Nightshade (Solanum nigrum)- Kakmachi – The juice of the leaves of the black nightshade can be applied locally on the affected regions. It helps in reducing the inflammation of the skin, and also has beneficial properties in minimizing discomfort and itching.
Aloe vera:  The gel extracted from the medicinal herb may be affected directly on the affected parts. The anti burn property is helpful to minimize itch and gives a cooling effect on the skin. Moisturizes skin and extremely helpful for plaque psoriasis.
Jasmine (Jasminum polyanthum)–The flowers of the jasmine reduces pain, inflammation and soothes itching.
Ayurveda is the ancient Indian system of natural and holistic medicine. In Sanskrit, Ayurveda means "the science of life" .While allopathic medicine tends to focus on the management of disease, Ayurveda bestows us with the knowledge of how to prevent disease and how to eliminate its root cause if it does occur.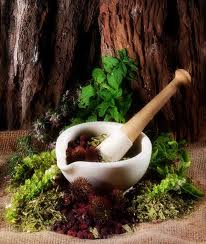 The aim of Ayurveda is to prevent illness and enhance wellness.
The knowledge of Ayurveda was passed orally through a lineage of sages in India until it was collated into text more than five thousand years ago. The oldest known texts on Ayurveda are the Charaka Samhita, Sushruta Samhita, and the Ashtanga Hrudaya. These texts detail the affect that the five elements found in the cosmic system – Space, air, earth, water and fire – have on our individual system, and expound on the importance of keeping these elements balanced for a healthy and happy life.
According to Ayurveda, each person will be influenced by certain elements more than others. This is because of their prakriti, or natural constitution. Ayurveda categorizes the different constitutions into three different doshas:
Vata dosha, in which the air and space elements dominate
Pitta dosha, in which the fire and water elements dominate
Kapha dosha, in which the earth and water elements dominate
The dosha affects not just the shape of one's body but also bodily tendencies (like food preferences and digestion), and the temperament of one's mind and emotions. For example, the earth element in people with Kapha dosha is evident in their solid, sturdy body type, their tendency for slower digestion, their strong memory, and their emotional steadiness.
Most people's prakriti is made up of a combination of two doshas. For example, people who are "Pitta Kapha" will have the tendencies of both Pitta dosha and Kapha dosha with Pitta dominating.
By understanding the qualities of our natural constitution we are better able to do what is needed to keep ourselves in balance.
if we are experiencing disease, it means there is an imbalance in our doshas; bringing our system back into balance is the key to the cure. Ayurveda has an effective tool for the diagnosis of disease called nadi pareeksha, or pulse diagnosis. By placing their finger on your wrist, an Ayurvedic doctor can easily detect the imbalances in the body and prescribe an effective treatment.
Treatments usually come in one of two forms:
1)      Panchakarma, a 5- pronged body purification program
If toxins in the body are abundant, then a cleansing process known as panchakarma is recommended to purge these unwanted toxins. This fivefold purification therapy is a classical form of treatment in ayurveda. These specialized procedures consist of the following:
Therapeutic vomiting or emesis (Vaman)
Purgation (Virechan)
Enema (Basti)
Elimination of toxins through the nose (Nasya)
Bloodletting or detoxification of the blood (Rakta moksha)
2)      Herbal medicines to balance the body
Ayurveda places great importance on one's pathya, or lifestyle (eating habits and daily routine). Ayurveda also provides guidance on how to adjust our lifestyle based on the change of seasons
Holistic Health
Ayurveda`s focus on an individual`s holistic health rather than merely the physical body, is the most beneficial aspect of ayurvedic medicine. It works on the principle that a perfect health condition is achievable through the emotional  integration in a person. Ayurveda provides us with a unique physical purification method called panchakarma and various ayurvedic herbal health remedies for mental and spiritual well-being.
A healthy person, as defined in Sushrut Samhita, one of the primary works on Ayurveda, is "he whose doshas are in balance, appetite is good, all tissues of the body and all natural urges are functioning properly, and whose mind, body and spirit are cheerful…"
The ultimate goal of ayurveda is to create a state of holistic health for the individual, to create, consequently, a healthy society and environment with its herbal health remedies. To attain this state ayurveda believes one`s life must move in harmony with nature`s rhythms and its laws. Because, ayurvedic medicine recognizes the human body is part of nature. The five great elements of the universe forms the three doshas of the human body, and a balance among the three doshas is necessary for the perfect working of the whole mechanism of body, mind and soul.
These holistic health benefits of ayurveda includes the physical, mental as well as the spiritual aspects of a person.
Physical Benefits
Noninvasive diagnostic ayurvedic treatments are beneficial for chronic patients. Ayurvedic medicine resorts to outward diagnosis of symptoms by studying a patients` habits -diet and daily life, pulse. Difficult diseases are managed effectively by these diagnostic methods.
Detoxification methods of ayurveda like panchakarma and other herbal  health remedies, when applied wholly or singly, make the body more responsive to medicines and treatment. It hastens the healing process.
Various yogasanas prescribed by ayurveda help prevent the diseases from occurring and accumulating. Yogasanas achieve the twin purpose of strengthening body-parts such as bones, muscle and vital organs like heart, liver, stomach, intestine as well as keeping our blood circulation and psychological conditions strong and flexible.
Most importantly, a correct diet according to one`s dosha type, and well-regulated life (dinacharya) helps strengthen one`s natural immune system.
Psychological Benefits
Perhaps ayurveda is the first such medical systems who recognizes that all diseases are but the direct manifestation of one`s mental conditions. It says human mind consists three states or trigunas -sattva, rajas and tamas. Any disturbances in the equilibrium of the tri-gunas, manifest in physical illness according to the intensity or nature of the disturbances. In fact, the condition of body and mind are integral to the overall health of an individual.
When the mind is stressed the stress hormone cortisone is released by adrenal glands. The level of hormone released affects the total volume of the brain that is involved in memory forming, organizing, and storing. Stress also affects all our decision-making activities in every field of life.
Ayurveda stresses on four principles to maintain the balance and equanimity of the mind .They are:
regulation in ahara (food habit),
vihara (activities),
nidra (sleeping habit) and
maithuna (sexual habit)
The guidelines for an intelligently regulated diet and daily routine are now, accepted techniques for stress management.


Ayurvedic massages, inhalation of herbal (Aromatherapy) preparations, panchakarma (nasya) besides the much-tested yogasanas and meditation leave a calming effect on the nerves.
Spiritual Benefits
The balance of tri-doshas and tri-gunas is imperative in this regard, for the individual needs to remain in balance within itself and in harmony outside with the nature. Various advanced ayurvedic treatments were born out of a necessity to keep the mind and body in perfect shapes to pursue the path of self-realization. Each individual is believed to possess undefined measures of creative capability, which, ideally, need to be realized. To achieve this, ayurveda emphasizes that the individual has to experience its oneness with the universe.
The treatment methods, diet and lifestyle regimen in ayurveda are carefully planned to heal the body as well as enrich the mind and the soul of each different individual. So that each can improve from their own levels to the higher goal of realizing the full self-potential. It was with ayurveda that the unique longevity and rejuvenating method of rasayana was born for mankind to progress in the path of spirituality.