HOW TO OVERCOME HEAT THIS SUMMER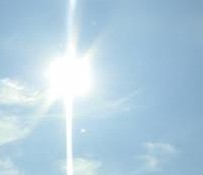 Summer season is the time for exams and in the holidays people go out on vacations. Time for trips, visit of relatives, hectic shopping. The risk of heat exhaustion and heat stroke rises along with the temperature and humidity. Heat illnesses occur when the body's cooling mechanism becomes overloaded.
To overcome exhaustion and the effects of summer heat simple steps can be followed.
First and foremost Hydrate your body. Drink lots of water at least 10 to 12 glasses of water. Water is a natural drink with no sugars in it. Keep sipping water in intervals even if you are not thirsty. If you are feeling thirsty it is an indication of dehydration. Carry a bottle of water when you go out from home.
Wear loose fitting, cotton clothes. Wear loose and full sleeved clothes to protect the body from the scorching sun. If you are working indoor then you can opt for short sleeve clothes.
Use an umbrella when you go out in the sun. You can avoid the hot sun by selecting light color clothes and umbrella. Light colors reflect heat.  Dark colors absorbs heat.
Use a cap or hat to avoid the heat. Possible cover the back of your neck. This is the area if neglected can cause disturbance to your health. Women these days are covering their faceupto nose completely to avoid the heat.
Have fruits , fresh fruit juice. Have fresh slices of cucumber, it is cooling.  Do not skip breakfast or lunch in summer when your schedule demands you going outdoors.  Eat healthy food and maintain good diet.
Wear sunglasses, helmets and women can wear gloves to prevent sun tan.
Use prickly heat powder to avoid sudden burst of rashes. Use a sunscreen lotion to prevent redness, itchy feeling and sunburns.
Take bath twice daily to remove all the salts settled due to sweating. Your skin becomes clear and you will feel relaxed.
Avoid liquids that contain caffeine, alcohol, or large amounts of sugar.
Preferably avoid outdoor activities if possible and try to complete the tasks before 10.30 am and proceed after 5.30 pm.
Sweating is a way to keep body cool. Sweating leads to pungent odors. You can keep away the bad odor by using deodorants.
Indoors use light color bedsheets. Keep the windows open to allow fresh air coming in.
Avoid having chilled water from the refrigerator as there are high chances of catching cold due to the sudden change in temperatures.
Consume coconut water.
If you are not using filtered water then recommend using pre-boiled , cooled water for drinking.
In many homes clay earth pots are used in summers. The upgraded version of clay pots with taps prevent water contamination.
Your health is in your hands. You can take care of your family near and dear ones by forwarding the tips. You can also understand How to overcome common Summer Health problems in the next article. Precaution is better than cure.