TENDER COCONUT WATER TREATS KIDNEY STONES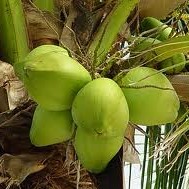 Tender coconut water is a healthy and natural beverage that has been provided by nature. Tender coconut water is a perfect drink to quench the thirst on a sunny day, it also supplements as an electrolyte to balance health. Coconut water has amazing anti-viral, anti-fungal and anti-microbial properties that help to cure diseases.
In Hindi it is known as Nariyal paani . In Sanskrit, Coconut tree is called kalpa vriksh as the entire tree is useful and it gives all that is necessary for living. The botanical name is Cocos nucifera, nucifera meaning nut bearing.
Tender coconut water has numerous medicinal properties:
Keeps the body cool. Excellent tonic for the old and sick.
Ideal for feeding infants who have stomach upset and are not accepting regular milk.
Checks urinary infections and kills intestinal worms.
Presence of saline and albumen makes it a good drink in cholera cases.
Cures malnourishment. Oral rehydration medium
Diuretic
Effective in the treatment of kidney and urethral stones
Supports quick absorption of the drugs and makes their peak concentration in the blood easier by its electrolytic effect.
Studies have confirmed for usage as blood plasma substitute because it is sterile, does not produce heat, does not destroy red blood cells and is readily accepted by the body.
Urinary antiseptic and eliminates poisons in case of mineral poisoning.
Contains organic compounds possessing growth promoting properties
Application on the body prevents prickly heat and summer boils and subsides the rashes caused by chicken pox, prickly heat rashes,  measles, etc.
Coconut water is preferred to be taken fresh, if exposed to air for a long time it starts fermenting and lose natural properties. The health benefits of this natural drink are:
Coconut water is more nutritious than whole milk. It has less fats and no cholesterol.
Coconut water is naturally sterile.
Coconut water is better than processed baby milk as it contains Lauric acid that is present in breast milk.
Coconut water has less calories- lower than orange juice.
Coconut water is pure and contains natural sugar, salts, vitamins to keep away fatigue and it is considered an energy drink.
Tender coconut water contains most of the minerals such as potassium, sodium, calcium, phosphorous, iron, copper, sulphur and chlorides.
Coconut water contains small amounts of protein. It does not contain any complex protein the danger of producing shock to the patients is minimized.
You can store excess coconut water in air tight container in the refrigerator. Consume within 24 to 48 hours to ensure natural properties are not lost. Do not place the tight container of coconut water in the freezer, chances for expansion of water and container bursting.
Pregnant women can have tender coconut water provides nourishment for self and the benefits are transferred to the growing baby. Ideal drink to recover from watery motions.
Ayurveda gives significance for tender coconut water .The flowers, root, coconut water and pulp inside the coconut is used in various medicines . The tender coconut pulp is useful to increase the quantity and quality of semen. It is an aphrodisiac.
Enjoy tender coconut water and keep yourself healthy with nature's gift to mankind.